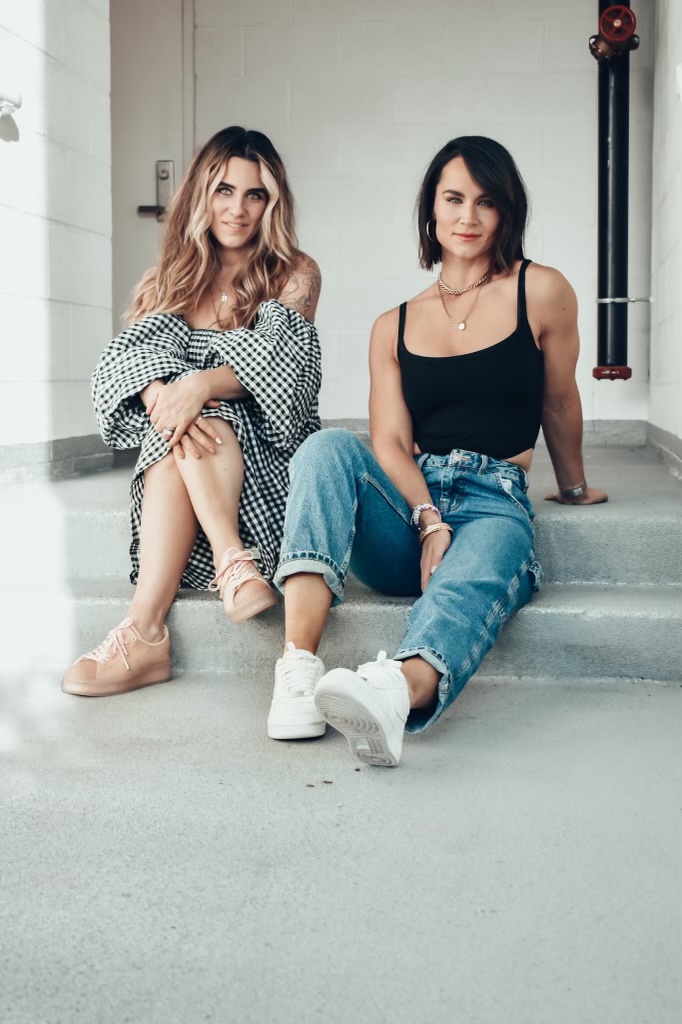 WELCOME TO SMITTEN ON WASHINGTON
Smitten on Washington opened in Clarendon in 2021 by owners Lisa Dahl and Melanie St.Clair. They brought beautiful hair, top stylists, and a relaxed vibe to Arlington, Virginia.
They have another location, established 2011, also located in Arlington VA. To visit Smitten Boutique Salon, click here.
Smitten is known for fantastic customer service and experience, exceptional skill, and friendly and talented staff. Clientele will find the best in balayage, dimension color, and advanced cutting.
Visit Lisa and Melanie's Instagram, @houseofsmitten, for the inside scoop on all things business and personal. Shop our favorite hair products, tools, and accessories here.
Services
All cut and color services include a blow dry.
ALL NEW PRICING LISTED BELOW IS EFFECTIVE JANUARY 25TH
Women's Cut
Owner $105
Senior $100
Stylist $90
Junior $70
Partial Highlight
starting at
Owner $225
Senior $205
Stylist $195
Junior $185
Includes B3 Bond Builder and glaze
Full Highlight
starting at
Owner $285
Senior $265
Stylist $255
Junior $235
Includes B3 Bond Builder and glaze
Blonding
(this is for a full highlight who needs even MORE highlights to achieve their goal)
starting at
Owner $455
Senior $425
Stylist $405
Junior $375
Partial Blonding
starting at
Owner $285
Senior $265
Stylist $255
Junior $235
Includes B3 Bond Builder and glaze
Partial Balayage
starting at
Owner $350
Senior $325
Stylist $315
Junior $275
Includes B3 Bond Builder and glaze
Balayage
starting at
Owner  $400
Senior $375
Stylist $350
Junior $325
Includes B3 Bond Builder and glaze
Root Color Retouch
starting at
Owner  $165
Senior $155
Stylist $145
Junior $135
All Over Color (Roots to Ends)
starting at
Owner  $335
Senior $315
Stylist $295
Junior $275
Vivid color
$200/hour upon required consultation
$100 non-refundable deposit fee prior to booking (this will be applied to the service the day of)
Kerastase Treatments
Genesis Detox Scalp Treatment $25 
K-Water Treatment $30
Fusio-Scrub Clarifying Treatment $30
 Deep Conditioning Masque Treatment $40
Fusio-Dose Treatment $50
Protocol Extensioniste $60
Peter Coppola Keratin Treatment
This is a smoothing keratin treatment. For more information on this service, please refer to the treatment website by clicking here. Please note this service is non-refundable.
$350
Men's Cut
Owner $65
Senior $60
Stylist $50
Junior $45
Blowout + Style
includes a wash, blowdry, & curling iron or flatiron
Senior/Stylist $75
Junior $65
Have extensions? $15.00 upcharge
Color Correction
$200/hour upon required consultation
$100 non-refundable deposit fee prior to booking (this will be applied to the service the day of)
Additional Lightener Bowls
$25
*All Color Services price includes ONE glaze. Any additional used during the service will be charged accordingly.
Please be advised: When seeing a junior stylist, we allow for extra time for your services to be performed. If you prefer a more efficient service, we suggest seeing a stylist or senior stylist. 
Scheduling
Please call the salon to schedule an appointment. Appointments cannot be made through email or social media. Please call us directly at 571.312.4381. A credit card is required to hold any appointment.
Occasionally we will offer color services without a blow dry. Please understand this is offered when we are trying to accommodate you earlier than the full service is available. No cost will be deducted from the color service if a blow dry is not booked. We have a blow dry station with blow dryers, products, and brushes available for your use. Thank you for your understanding.
Cancellation Policy
At The Smitten Salon,  we value your time and money; please have the same consideration with us. We ask that you give us the courtesy of cancelling 48 hours prior to your appointment to allow us to fill that time slot and offer to clients on the waitlist. All clients MUST cancel and/or reschedule 24 hours prior to their appointment to avoid a fee.
If you no-notice/no-show or same day cancel and/or reschedule, you will be charged 50% of your appointment fee that is listed under our service menu. This charge is non-refundable. As a courtesy, we send text and email reminders prior to your scheduled appointment. If you are running late, please contact us as soon as possible. We allow a 15 minute grace period before the appointment is considered a no show and subject to the fee.
Punctuality Policy
A 15 minute grace period is permitted to all clients. We will strive to accommodate all guests. Stylists retain their right to reschedule any client that arrives 15 minutes or later after their scheduled appointment. Please understand that this policy is in place so that the stylist does not run late for other scheduled and on time appointments.
Refund Policy
Your satisfaction is extremely important to us. Although we do not offer refunds on services rendered, we will do everything in our power to correct any issue that may arise within two weeks of the original service.
We do not offer refunds on any Kerastase products purchased at the salon. You may exchange a product with a receipt for a different product of your choosing.
Children 
Smitten is no longer accepting children under 12 years old for any salon service. Thank you for your continued patronage.
Join Our Team
We encourage you to reach out whether you are a new stylist or a seasoned stylist. We are always looking for fresh talent!
Apprenticeship Program
We are accepting talented and enthusiastic apprentices to join our Apprenticeship Program. Beginning in January, they will be training and shadowing underneath our experienced stylists and owners to refine their skills over a ten month long program that covers both color and cutting techniques. They will be in classes on Mondays and Thursdays and will be applying their knowledge on real models. We are a Bumble and bumble exclusive salon who thrive on teamwork and talent. For a behind-the-scenes look into the apprenticeship program and education opportunities, visit our Instagram accounts @thesmittensalon and  @houseofsmitten.
For all inquiries listed above, please email your resume to info@thesmittensalon.com
PRESS & AWARDS
Lynsey recognized as Top Stylist by Allure in 2012
Top salon in Metro Washingtonian, 2012
Abbie Award Arlington Best Business, 2013
Women to Watch, Arlington Magazine, 2013
"One of Best Salons in World" selected by Hey, Hey Gorgeous, 2014
Recognized in the industry, Behind the Chair Magazine, 2015
Women's Health Magazine recognition, 2016
Best Salon, Northern Virginia Magazine, 2016
Best Salon, Arlington Magazine, 2016
Top Colorist: Liz, Allure, 2016
Women to Watch in Business, Arlington Magazine, 2016
Best Salon, Northern Virginia Magazine, 2018
Best Salon, Arlington Magazine, 2018
District Boss Interview by Ringlet Studio
Libby Living Colorfully's Review
ChloandTell's Experience with Extensions
Best Salon, Northern Virginia Magazine, 2019
Featured in Northern Virginia Magazine, 2020
Featured in Shape Magazine, 2020
NBC4 Coverage // Clear Face Masks for Covid for Hearing Impaired
Best Salon, Northern Virginia Magazine, 2020
CONTACT
3000 Washington Blvd
Arlington, VA 22201
Info@thesmittensalon.com
(571)312-4381
HOURS
Mon: 10am – 6pm (Select stylists)
Tues/Wed/Thurs: 10am – 8pm
Fri/Sat: 10am – 6pm
Directions for parking
Customers may utilize the Trader Joe's parking garage located at 1109 N Highland St, Arlington, VA 22201, United States
*please note this garage the first 90 minutes are free with a purchase from Trader Joes. After the 90 minutes customers will have to pay.
Market Common Garage – Located at 1255 N Fillmore St. $8 for 2h
Street metered parking out front of Smitten on Washington on Washington BLVD and on side streets (10th and highland)